ABIRAMI PROCESS PUMP TYPE: APP, APC, APN, APC-MV, APV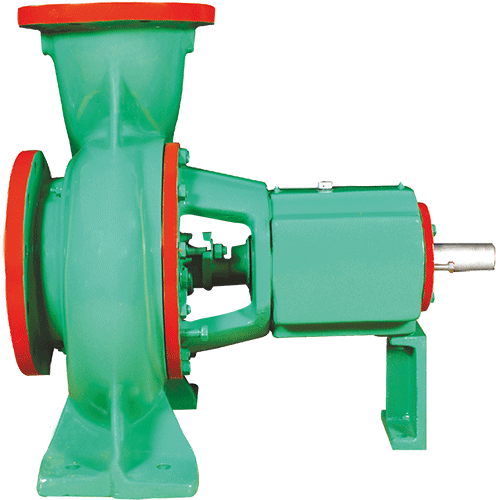 In Accordance with ISO 2858 / DIN 24256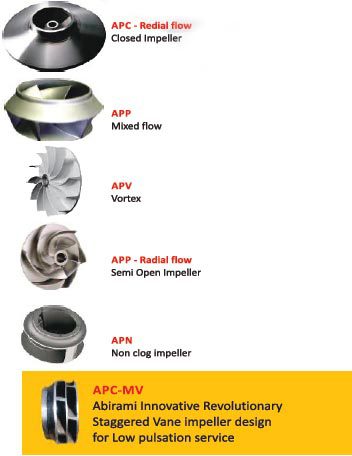 60 Models in type APP ensures the pump section of any duty parameter within the operating range nearest to the best efficency point.
Horizontal, Centrifugal, Single stage, Single entry, Radial split volute casing, Radial flow impellers semi –open / open type in accordance with DIN standard.
App type pumps are especitially designed to handle pulp stock up to 7% with wide volute to take the pulp as like water.
PAPER INDUSTRY: APP type pumps are especitially designed to handling pulp stock up to 7% without applying correction factor for head & efficiency.
FERTILIZER INDUSTRY: For acids hcl, h2so4, ammoniaand other acids and petrochemical.
Capacity: up to 7000 m3/hr.
Head in mts.: up to 150 meters
Temperature: up to 240C
Working pressure: up to 16kg /cm2
Speed in rpm: 3000 max.
SLURRY APPLICATION: all type of cement, fly ash, filter cement, backwater services
COMMON CONSTRUCTION FEATURES OF APP/ APO/ AEC-PML/ AEC-C PUMPS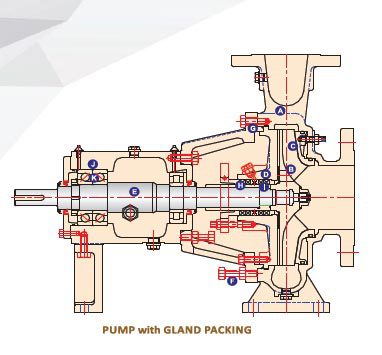 Self venting casting prevents air lock with low radical force.
Closed, Semi Open, Non clog, Vortex & Closed type staggered multi vane impellers to cover all application industry.
Back vane relives pressure on st. box & reduces leakages.
Balancing holes are provided to reduce axial trust.
Fitter with casing parallel to impeller profile to ensure the impeller clearance and to achieve the designed effiency of the pump. This also protects the liquid contact the wear plate seating area of the casting.
Sturdy bearing unit design. Non floating rotor both oil & grease can be used as lubricant. Since more pump models are coming under same bearing unit only few spares need to be kept for maintenance.
Heavy duty angular contact ball bearings in drive end 2 nos. & 1 no. cylindrical roller/ deep groove ball bearing in the no drive end. Suitable for grease & oil lubrication.
Also available with extra heavy duty design for special applications 60 models in the type APP ensure the pump selection of any duty parameter within the operating range nearest to the best efficiency point.
BEARING ASSEMBLY DESIGN OF APP PUMPS